Constructional challenges helped build an enviable fund of expertise
"A bridge is a thing of steel and concrete built by man to carry a highway from one point of land to another. But it is also much more than that- it is a monument to those who conceive and design it and to those who bear the cost and authorize the work.
And the Burrard Bridge, to be officially opened tomorrow, is a tribute in structural material to the men who have laboured for almost a quarter of a century to bring it into being. In location, in beauty of design and in utility it is almost unique and today is regarded by engineering authorities as an example of careful designing and forethought seldom equalled in bridge construction. "
// The Vancouver Sun. June 30, 1932
---
The following day, Burrard Street Bridge was officially opened by Mayor Louis D. Taylor, marking the end of a huge construction project which had commenced on December 9, 1930 under a contract jointly held by general contractors Hodgson, King and Marble and Dawson, Wade and Co. Ltd. With Fred J . Dawson as general manager.
It had been only ten years earlier, in 1922, that engineering graduate Fred Dawson had formed his fledgling construction company, joining forces a year later with Harry Wade, whose name was retained in the company until 1963.
The Burrard Bridge was Dawson, Wade's first joint venture as well as its first major project and it must have been a great source of pride for Fred Dawson that the bridge was completed some six weeks early.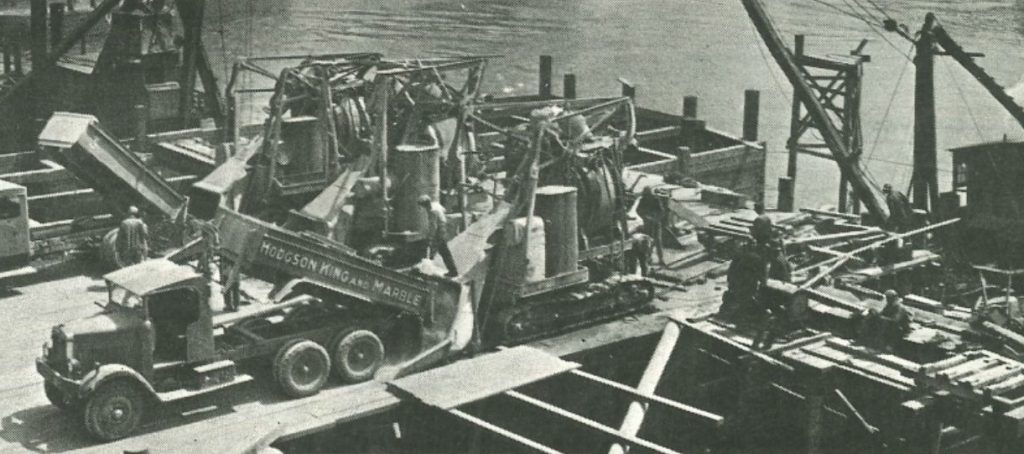 From the day he first opened his doors for business, the pioneer contractor never looked back, constantly developing, diversifying and expanding to keep abreast of the ever increasing competitiveness of the risky construction business.
There were rough times, but Fred Dawson's policy of diversification managed to hold the firm together.
As the company became more diversified, it developed a strong – nucleus of experienced personnel, many of whom are still with Dawson – an indication of the firm's stability and attitude towards its employees.
"The whole secret behind this company's survival is the built-in loyalty and expertise of its people," says Barry Drummond, 17 year man with the company and vice-president operations of Dawson Construction Ltd.
Knowledge and loyalty
Drummond is typical of many senior Dawson personnel, where the ingredients of education and experience have been mixed to form a man not only loyal to a company that is loyal to him, but a man intimately knowledgeable of every facet of his work.
Following his graduation from the University of British Columbia with a degree in civil engineering, Drummond estimated for six years before going out in the field. There, he readily, admits, he spent the best years of his life.
He recalls a $1.5 million bridge approach project at Terrace where rock had to be blasted right beside a railway. ("It was a delicate job and rather exciting.")
Drummond considers the Kamloops by-pass a spectacular job, where 3.5 million cu. yds. Of material was moved in a space of four miles. Then there was the $7 million Yellowhead project and the Pat Bay highway,. "Which has to be the worst job ever for traffic problems."
Thumbing through dozens of files, Drummond came across jobs such as the dam at Sooke Lake, built for the Victoria District and the Block 52 excavation, where 250,000 cu. yds. Of material was excavated in the centre of downtown Vancouver and traffic congestion and disposal of the material presented Dawson with a few interesting problems.
Development of Gibraltar
Then there was the $5 million re-construction job of the Trans-Canada highway at Golden, reconstruction of the highway from Duncan to Dauldi, development of the plant site for Gibralter mines, $1 million grading contract on a 13 mile stretch of highway from Duncan to Lake Cowichan along with a 33,000 ton paving contract in the Lake Cowichan area.
Jobs the many Dawson companies have been involved in are too numerous too mention.
World War Two brought about defense contracts and Dawson launched into airport construction at places such as Boundary Bay, Patricia Bay, Kamloops and Dafoe, Sask. And with the wartime airport construction experience under its belt, the company subsequently picked up jobs at Pitt Meadows, Ft. McMurray, Prince George, Terrace, Comox and Cold Lake, Alta.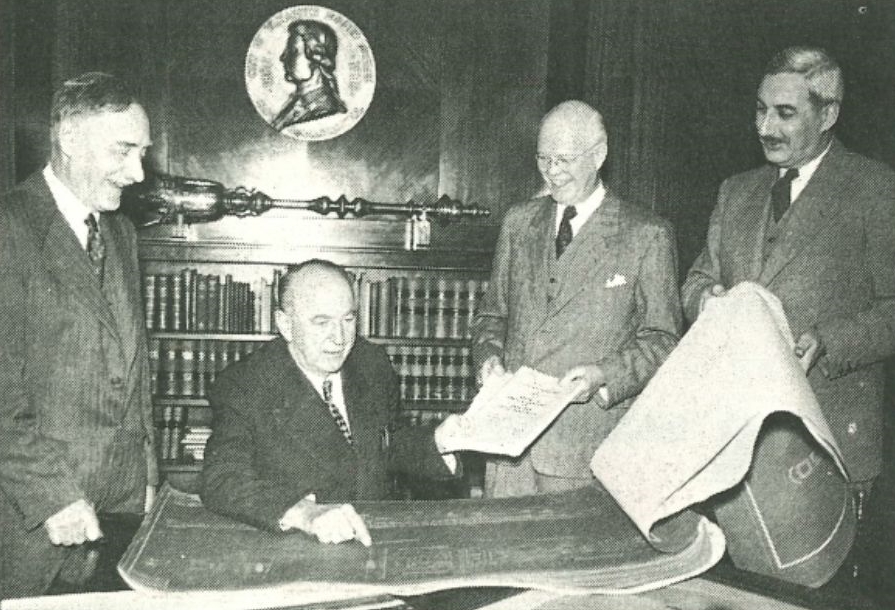 Involvement in major projects
Other arms of the firm were getting involved in major projects such as Kitimat, the pulp mill site at Castlegar, the Rogers Pass, the Peace River Dam, the Fraser Canyon Highway, the Kicking Horse Highway and the Okanagan Highway.
The year 1952 was significant for the company, not only because it was working on the Granville Street bridge which was one of the largest projects of its kind at the time, but it was also during this project that Fred Dawson suffered a stroke and Graham had to take over management of the companies.
Drummond muses that one of his more vivid memories is probably the Yellowhead highway construction near Mt. Robson, where crews hit faulty rock while driving in a pilot road.
"Highways department engineers estimated we would have to move four million cu. yds. of material, so the road was reengineered to run through a portion of the Fraser River," recalled Drummond, "It created the highest rock cut in British Columbia."
But what really sticks in Drummond's mind is that, up to this point, Dawson veteran Herb Grant had been in charge of the project but as soon as the problem came along Grant had to move to another job, leaving Drummond to take over. "I'm sure Herb had that rigged," chuckles Drummond.
Herb Grant joined the Dawson team in 1952 at the Cold Lake Airport construction and has been with them ever since, now heading up the Upper Levels job along with the Cypress Bowl project.
The biggest problem at Cold Lake? Herb replies without hesitation- "Mosquitoes! " He also remembers that the access road to the site was "out of this world," and that everytime it rained a farmer had to pull vehicles out of the mud.
Improvement in scrapers
The Cold Lake job was also the first time Grant had used the two-wheel drive DW20 scrapers. Then the DW21 came along, "a great improvement."
In 1957, Dawson was working on the Campbell River Dam and Herb was in charge of the job.
Easing back in his office chair, his eyes twinkling as they always do when he tells a story. Herb 'tells how warm rain and high winds caused a flood which knocked out a plug in the Campbell River.
"I'd walked across that plug just two hours before and I'm sure glad I wasn't on it when she blew. Some big Jogs came down, wiped out the plug out and the huge rocks from the plug carried on down the hill and knocked a trestle out below," said Grant.
In the flood a quantity of rebar, some clam buckets and some drag line buckets disappeared. They were never found.
Dawson had three sections of Highway 401 and Grant recalls how they moved 13 scrapers in to the Abbotsford bypass, hoping for a run at it in the dry summer weather of 1959. "It stayed wet all summer and we never got a thing done."
Dust control was the largest single problem on the Kamloops by-pass. Herb tells how the Department of Highways hydroseeded the slopes in an attempt to cure the problem. The scrapers also had a difficult time on this project because of the ten per cent grade and the intense summer heat.
The spectacular Rogers Pass on the Trans-Canada highway was opened in the fall of 1962. Dawson, Wade and Co. Ltd. played a significant role in its construction.
J.W. 'Tiny' Laughton was Dawson's man on the job and he remembers the problems of glacial dust encountered during July, 1961. Rain made the powdery dust an impassable mire and turned the Rogers Pass into "the financial boneyard of contractors – who contributed as much as the government to the cost of building the road."
At one point during the project, a scraper and a 12-ton Euclid truck slithered down a 50 ft. bank of fill into mud seven ft. deep. It took crews a full day to extricate the machines.
Dawson, Wade teamed up with Peter Kiewit Sons Co. on two of the four snowsheds constructed in the pass. They were constructed of heavily reinforced concrete with seven inch-thick roofs, rip-rapped with tons of stone so that an avalanche roaring down a mountainside will slide harmlessly over the top.
---
Photo Caption: THE GRANVILLE Street Bridge, with the Burrard Bridge in the background – May 1972. Dawson had a hand in both these City of Vancouver main arteries.