Heavy Metal Rocks has operated for the past 13 years in B.C. as a way for high school students within the School District No. 73 boundary to get some first-hand job experience working with big equipment. But what Heavy Metal Rocks also provides is an opportunity for the instructors – potentially future employers – to share the ins and outs of the industry with the next generation of labour force.
Riley Demidoff didn't predict that she would one day work for Dawson Civil eight years after she attended Heavy Metal Rocks as a soon-to-be Valleyview Secondary School graduate, but it certainly played a factor in her decision making when applying for jobs later on.
"It made it easier, for sure. Knowing a few people from Dawson, what the company was about and how they operated definitely played a factor, even after all those years went by," said Demidoff, who attended Heavy Metal Rocks in 2012.
Heavy Metals Rocks is a learning experience for young adults, where they enter the program with varying levels of experience. Demidoff was one of the students that showed up with a little more experience in her back pocket, as her father owned a construction business since she was young.
"I have been around machines all my life, but Heavy Metal Rocks still gave me a better understanding of what goes into different jobs," said Demidoff. "It was still a really cool experience and validating for me to see that there were all these different career options for me."
Working for her dad during her summer breaks allowed her to gain experience with projects such as the softball fields in Rayleigh and worked on the water/sewer upgrade project in Fernie. She also witnessed her dad work jobs in Whistler leading up to the Winter Olympics.
"I've learned that it's important to bring a positive attitude, strong work ethic and a desire to learn to every jobsite. Showing up ready to work and not only respecting but understanding the safety culture will help propel anyone forward. We are exposed to all the elements in an unpredictable environment with these jobs and it helps create a challenging, yet rewarding and exiting career," said Demidoff.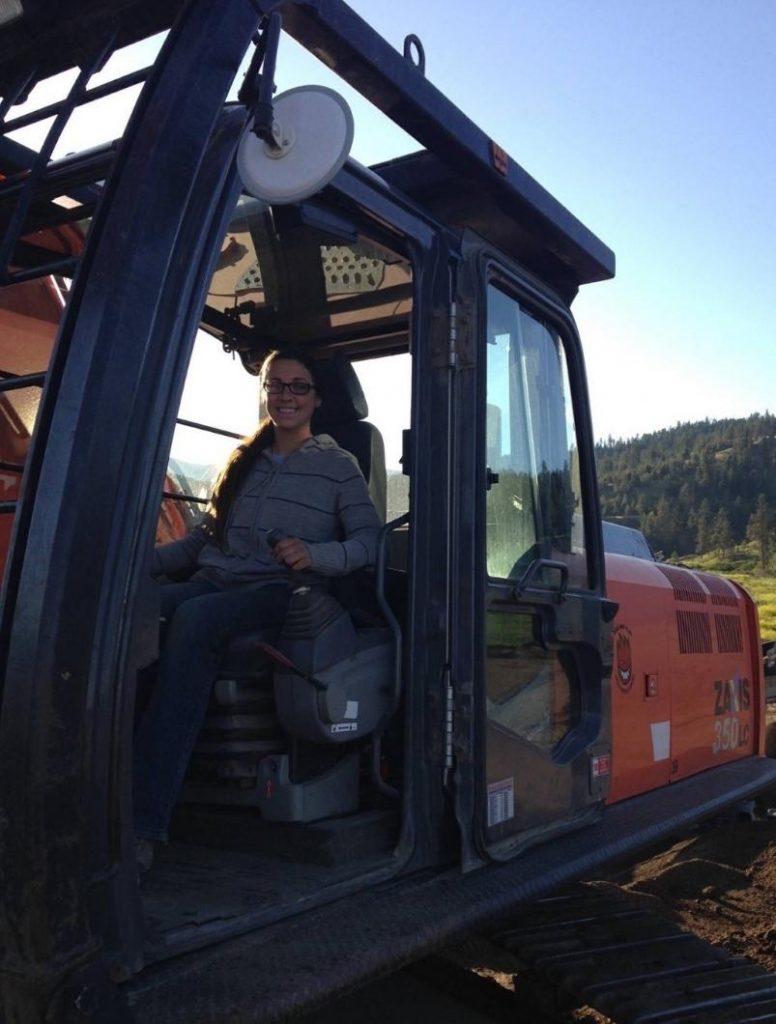 All that experience eventually brought her back to Dawson Civil in November, 2020, when she was working on a project in Service Area 16. There, she started as an operator and left the company in February 2022 as a foreman. During her time with Dawson, she was clearing and removing stumps/grub with various pieces of equipment to prepare for the next crews. After that, she helped clear a path with excavators to assist the labour crews.
"I worked with Riley when she first started with Dawson. She started on my crew as an operator (an excellent one at that) and always brought a positive attitude to work with her. She could always find a way to boost moral. Riley quickly moved into a straw seat where she excelled as a leader and a team player. Upon moving out of my role as foreman, I immediately recommended Riley for that position. She did a great job in her new role, worked very well with everyone and had nothing but respect for her crew and the rest of the team. I can't say enough good things about Riley," said Adam King, Dawson Civil Superintendent.
These days, Demidoff continues to accomplish great things in the field, completing various jobs, which take her city to city and even province to province as she pursues her passion.
"I really love what I do and all the people I get to work with on all these projects, I am constantly growing even years after. I wouldn't want to do anything else and Heavy Metal Rocks definitely helped me come to that decision," said Demioff.
This year's installment of Heavy Metal Rocks takes place April 6 and runs until 1 p.m. on Saturday, April 9. On location this year will be 26 students with 13 different stations featuring equipment such as rock drills, screening plants, crane excavators, rock trucks, bulldozers and much more.